MRI Imaging Hours:
Bartlett Location:
Monday – Friday: 8AM-4PM
Schaumburg Location:
Monday – Friday: 7AM-9PM
Saturdays: 7AM-4PM
MRI Machine: Hitachi Echelon 1.5T
Schaumburg Location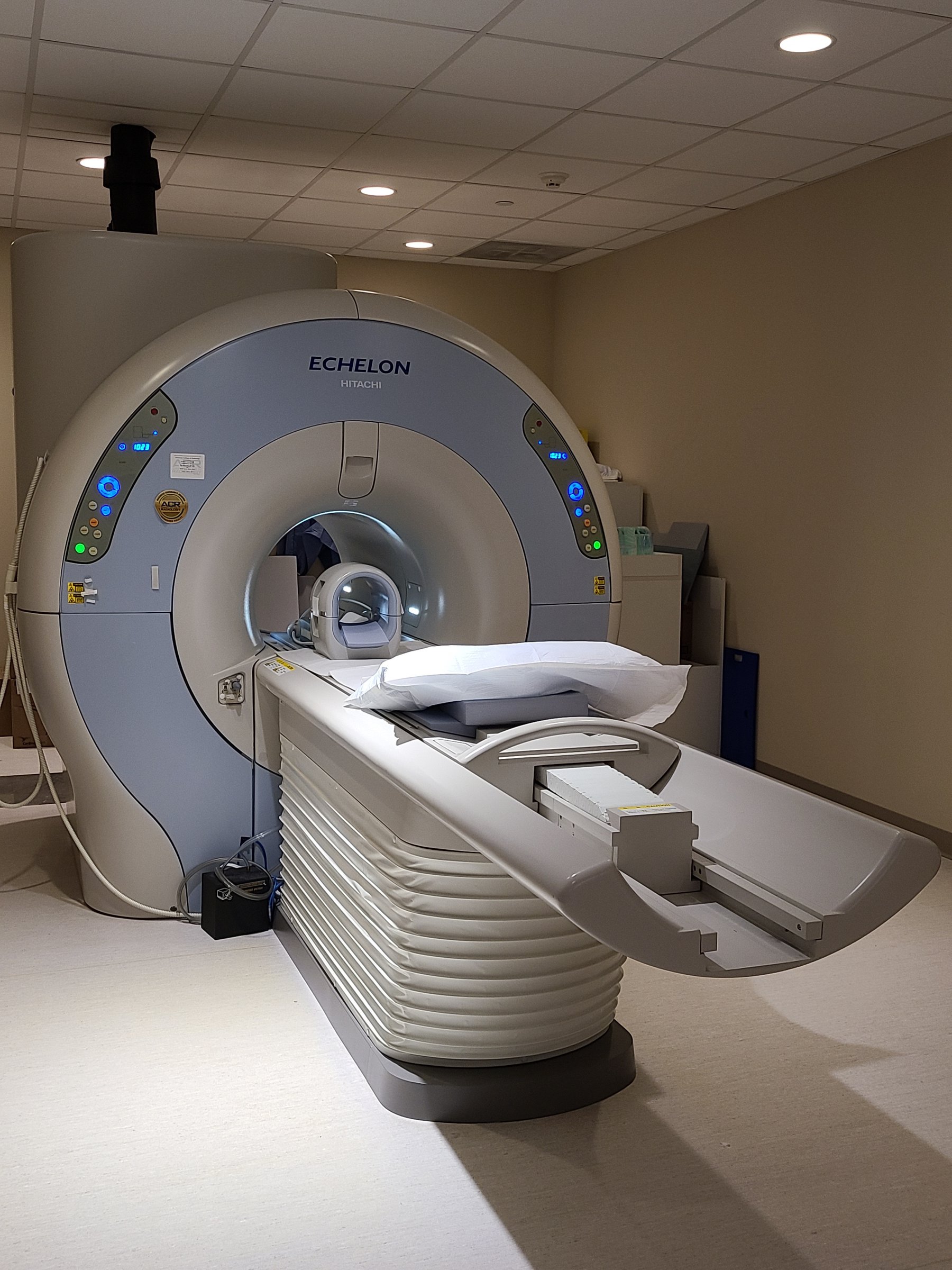 MRI Machine: GE Signa 1.5T
Bartlett Location

MRI Department
Our healthcare experts at Barrington Orthopedic Specialists discuss your medical history with you prior to scheduling the MRI.  We are happy to answer your questions or address any concerns you may have about the test.  To contact the MRI department please call  (847) 285-4200.
Patient safety tips prior to the MRI exam:
Because of the strong magnetic field used during the exam, certain conditions may prevent you from having an MRI procedure. When scheduling your appointment and prior to your exam, please alert our staff and technologist to the following conditions that may apply to you. The radiology staff will let you know whether you can have the MRI exam and whether the exam needs to be modified for your condition.
Aneurysm clips

Breast Tissue Expanders

Claustrophobia

Cochlear implants and otologic implants

Exposure of metal fragments to your eye

History of kidney problems or diabetes

Implanted drug infusion device (i.e., insulin pump)

Implanted Neurostimulator

Mechanical heart valves

Metallic implants and prosthesis

Pacemaker

Pregnancy

Shrapnel or bullet wounds

Shunts

Spinal stimulators

Stents

Other conditions you believe to be relevant

Helpful tips before your MRI exam: 
Please leave your valuables at home, including jewelry, to prevent it from being lost as those items need to be removed prior to entering the scan room.
No Copper clothing, shoes inserts, undergarments or face masks should enter the scan room.
Do not wear perfume or cologne on the day of your appointment.  Do not apply medicated lotions or medication patches to your skin prior to your MRI as they may cause skin irritation or burns.
Insulin pumps and CG monitors should be removed prior to your scan
No electronic, battery operated devices or magnetic devices should enter the scan room (fitness trackers, cell phones, watches, magnetic eyeliner, or eyelashes)
Please bring a list of your current surgeries
If you experience anxiety related to claustrophobia, your doctor may prescribe an oral medication for you to take prior to your MRI appointment.
Preparing for the MRI exam:
There is little preparation for an MRI exam. Take your daily medications as you normally would, unless instructed otherwise. There are few dietary restrictions for an MRI. For those exams, you will be notified of the requirements.
You are required to arrive 15 minutes prior to your exam and check in with the receptionist. You will need to complete the MRI screening form.
To eliminate possible MRI safety issues, you will be asked to change into a hospital gown. A locker will be supplied to secure your belongings.  
A technologist will verify your identification and the requested exam. 
Your screening form will be reviewed by the technologist to verify safety.  If MRI contrast is indicated for the exam, an IV catheter will be inserted in your arm by a technologist and removed immediately after administration of the contrast.  
What can I expect during my MRI exam?
The duration of the procedure will vary but the average is 30 minutes to one hour per body part. 
You will be required to lie still during the actual MRI scanning. 
The magnet is permanently open on both ends. It is well lit and there is a fan for patient comfort. There is also a two-way intercom system for communication between patient and technologist. The part of the body being scanned will be placed in the middle of the magnet.
During the actual imaging, you will hear a loud intermittent banging noise. You will be provided with earplugs to minimize the noise during the procedure. 
The technologist will communicate with you throughout the entire exam.
Some MRI exams require an injection of intravenous MRI contrast. Inform the technologist if you experience any discomfort during the injection.