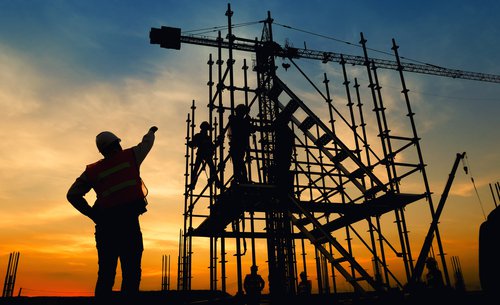 Any type of worker can potentially sustain an injury while on the job. Unfortunately, there are certain professions that pose exceptional risks for workers when it comes to severe or even life-threatening injuries, particularly those that involve high-risk environments or intense physical labor. But what are these professions, and what exactly makes them so risky?
At Barrington Orthopedic Specialists, we're proud to offer care and education on topics relating to workers' compensation, including information about risk factors and injury prevention for workers in dangerous occupations. Here's a list of the top four most high-risk jobs for workplace injuries:
1. Iron and Steel Workers
Ironworkers and steelworkers have a multitude of risks to consider regarding potential workplace injuries. Because much of their work is performed on tall bridges and buildings, these professionals are often doing their jobs at extreme heights, resulting in a higher possibility of injury from a slip, trip or fall. Additionally, iron and steel workers are constantly working with extremely heavy materials -- if a worker is hit by any of these materials as they swing or drop, serious injuries can result from this event as well.
2. Garbage and Recycling Collectors
As workers in another occupation that poses multiple risks, garbage and recycling professionals are susceptible to injuries from two main sources. Some of the injuries reported by workers were due to vehicular incidents involving their trucks. Other injuries reported were caused by slips, trips and falls that result in orthopedic injuries, since garbage and recycling collection often involves physical labor on wet or slippery outdoor surfaces. 
3. Roofing Professionals
Like iron and steelworkers, roofers carry the difficult task of performing hard physical labor in very high places. While this is an unavoidable element of working on a roof, it is also a recipe for some of the most work-related injuries of any profession. The physical aspects of roofing, including heavy lifting, bending, kneeling and climbing up to high places, can result in common orthopedic workplace injuries such as repetitive motion strain and injuries from overexertion. In the worst case scenario, a roofer may also take a dangerous fall which could result in severe injuries and an exceptionally long period of recovery.
4. Public Safety Workers
At Barrington Orthopedic Specialists, we often treat police officers, firefighters, Emergency Medical Service (EMS) workers, and other public safety professionals for injuries sustained on the job. When these workers enter emergency situations in dangerous environments, they become vulnerable to a variety of incidents that can result in orthopedic injuries. The most common of these incidents include vehicular accidents, falls from great heights or structurally unstable foundations, and accidents involving ladders.
Whether you're a worker or a business owner in any of these high-risk fields, it's essential to understand the possibility of injury you or your employees face. It's equally important to minimize that possibility as much as you can by staying compliant with your industry's OSHA regulations, and practicing caution above and beyond the minimum requirements.

The team at Barrington Orthopedic Specialists has a dedicated workers' compensation department and can be reached directly at (847) 285-4220, or by completing a Request an Appointment form on our website at www.barringtonortho.com.  Our Schaumburg location offers a work conditioning program which is designed to safely return the injured worker to full duty work.