Happy spring from the team at Barrington Orthopedic Specialists! We hope you're staying safe and having fun while enjoying the warmer weather.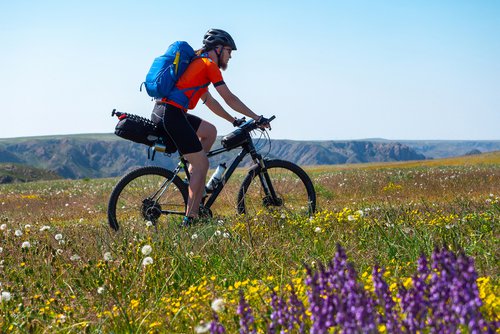 This month, we were fortunate enough to hear from Mike, a patient of Dr. Obermeyer who has undergone a total shoulder replacement procedure at BOS. His story is very inspirational!
Additionally, read about how the employees of BOS enjoy participating in events to give back to our community!
"I AM BACK!": Mike's Successful Shoulder Replacement Helps Him Return to the Life He Loves
In this interview, Mike was kind enough to talk to us about his total shoulder replacement procedure, his experience with Dr. Obermeyer at BOS, and how his recovery has gone so far.
Describe how chronic pain affected your life prior to your surgery. What were your symptoms? How did shoulder pain change the way you lived? 
Before the surgery, I could not lift my right arm up above my shoulder. I had pain just putting on a shirt, and a coat was even more difficult to put on. I had a hard time washing my hair. Weeks before the surgery I could barely get to my keyboard on my desk. I have been bowling in leagues since I was a kid and could no longer throw a ball. Basically anything that involved using my right arm above my shoulder wasn't happening. 
What made you choose Dr. Obermeyer at BOS as your orthopedic specialist? 
Actually, Dr. Obermeyer was my second opinion. I had gone to another specialist first and went through everything with him. My family suggested I should get a second opinion. So, I did some research and saw that Dr. Obermeyer was really up on all the new shoulder replacement issues and felt that maybe I would go see him to see what he was all about. 
I can't say enough about how he took the time to explain everything and made me feel very comfortable about choosing to do the surgery. The other doctor I saw said | needed the surgery but was not as informative, nor did he take the time with me like Dr. Obermeyer did. Don't get me wrong, Dr. Obermeyer didn't sugarcoat the surgery. He laid out everything for me [including] the risks and the rewards. This was another reason why I was extremely confident in my choice. 
How did you and Dr. Obermeyer reach the decision that total shoulder replacement was the best option for you? 
Dr. Obermeyer went through my situation with me and laid out what was going on with my shoulder. He went through options and expectations. I could have dragged this out with other options that might have gotten me some pain relief but those options were not going to fix my shoulder. I wanted my shoulder fixed to get back to life and not have to worry day to day if it was going to hurt or inhibit me from doing things I needed and wanted to do. Replacement surgery was the right thing to do. 
Describe your experience with Dr. Obermeyer and the team at Barrington Orthopedic Specialists. How did they help you before and after your procedure?
They didn't mess around. After I decided to do the surgery they set everything into motion. Everything that I needed to get done was laid out for me. If I had any questions before and after the surgery, I just called and got answers. The office personnel were extremely nice. After the surgery they did a lot of checking up on me [and] took care of setting up the physical therapy for me, which is right next door to the office. The follow-up appointments went well and the X-rays after the surgery were explained very well to me. 
Tell us about your recovery process from total shoulder replacement. How long was your recovery? What was the most difficult part? What was the easiest part? 
It took about 6 months for me to get back to activities. I was actually back bowling in 6 months. It has been years since I was able to throw the ball like I am now. I fortunately did not have hardly any pain after the surgery. Of course, I couldn't move my arm on my own for a couple [of] months, but in physical therapy – which started 3 days after my surgery – they moved it around. I was back to work using only my left arm in 3 weeks. 
The hardest parts were sleeping sitting up for 3 weeks and using my left hand for things that I always used my right hand for. If you are a right-hand or left-hand person, I would strongly suggest practicing your personal grooming and bathroom issues for at least a week or two before the surgery with your non-dominant hand. You will need help with a shower because you can basically only wash one side of yourself. You cannot use the surgery arm. I am lucky I had my wife home to help me out. You must do the physical therapy. This is one thing I did not slack on. I did it at physical therapy and at home. I firmly believe this got me back to functioning a lot faster. 
I don't think I can say anything was easy. It's difficult for the first 3 months, then at least you can start to use the surgery side a little more each week. I would suggest you get yourself some nice sweatpants and oversized tee shirts. I can say that this was absolutely worth everything I had to go through to get to where I am now. 61 years old and going strong. I started about 4 months ago lifting light weights (15lbs) and I continue stretching. 
How do you feel with your new shoulder? How has it improved your life? 
I feel extremely happy that I can get back to doing the things I love to do without any pain. I am back to normal, and maybe even a little better. It is very freeing to be able to reach and use my arm without any pain at all. How has it improved my life? 'I AM BACK!' A little corny but true. 
If you could say anything to someone considering total shoulder replacement, what would it be? 
Don't wait and be miserable because of what you hear from other people. I waited and I could have had this taken care of at least a year sooner. That's one year without the pain and not being able to do things I could have avoided. I can't speak on anyone else's experience except mine, and thanks to Dr. Obermeyer, this has worked out wonderfully. 
Thank you to Mike for answering these questions for us! If you're interested in learning more about total shoulder replacement as an option for finding pain relief, schedule an appointment with us. If you'd like to learn more about Dr. Obermeyer, visit his profile here.
Community Outreach: Blessings in a Backpack
Every school-aged child in America has the right to the nourishment needed to learn and grow. As a leader in the movement to end childhood hunger, Blessings in a Backpack strives to ensure children do not go hungry on the weekends by empowering individuals and communities to take action. 
Blessings in a Backpack mobilizes communities, individuals, and resources to provide food on the weekends for school children across America who might otherwise go hungry.
Barrington Orthopedic Specialists Family of Volunteers gathered on 4/23/22 to pack backpacks filled with food for the students with food insecurity at Palatine High School.  We are honored to be partnered with Blessings in a Backpack and Palatine High School to support our community!
To be scheduled with a physician at  Barrington Orthopedic Specialists, contact our office at (847) 285-4200 or schedule online here. For urgent needs when our physician's offices are closed, visit our Immediate Orthopedic Care (IOC) in Schaumburg, Illinois.