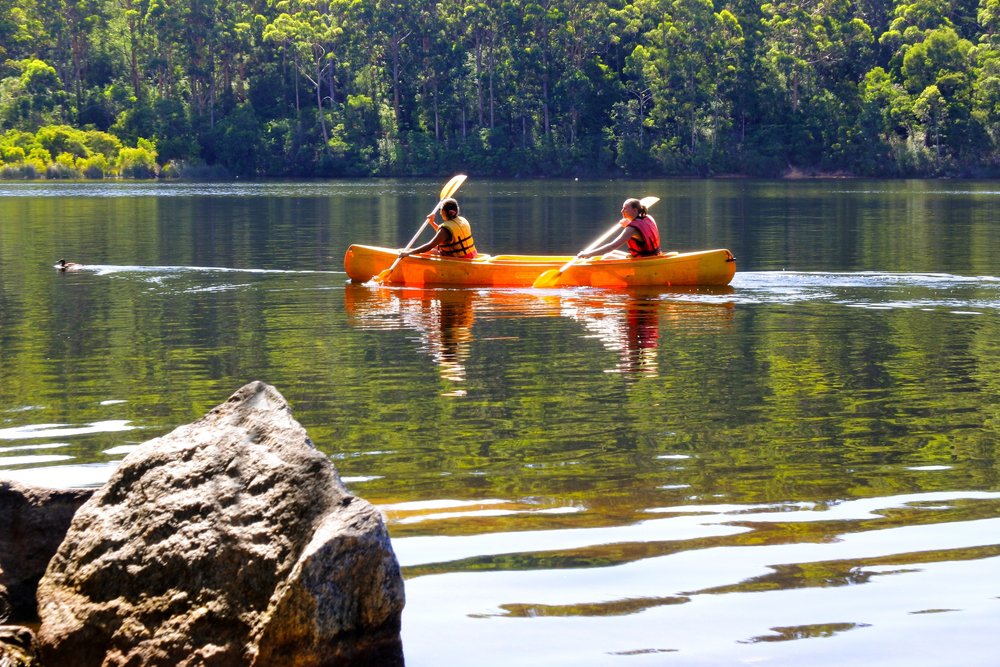 The team at Barrington Orthopedic Specialists wishes you a spectacular summer! Whether you're at home or on vacation, we hope you're staying safe, healthy, and cool.
This month, we reached out to Lon, a patient of Dr. Nourbash who was kind enough to tell us about his experience receiving hip replacement surgery at BOS. The catch? Lon came all the way to BOS from across the globe!
"I Love My New Hip!": Lon's Hip Replacement Surgery Helps Him Stand Tall and Enjoy Life In Guam
In this interview, Lon tells us about living with chronic hip pain, coming stateside for his procedure, his amazing experience with Dr. Nourbash at BOS, and how his new hip has changed his life for the better.
Hello Lon! Describe how chronic hip pain affected your life before your surgery. What were your most disruptive symptoms? How did they intrude on your life?
I had constant severe pain that limited everything I did. I could only walk with a cane over short distances and that with a hunched posture. The pain kept me from sleeping well. Essentially, I was limping from chair to chair or chair to car and back.
7,000 miles is a long way to travel for surgery! How did you hear about Barrington Orthopedic Specialists all the way in Guam, and what made you choose Dr. Nourbash as your surgeon?
I had originally planned to have my hip replaced in Japan but COVID closed the country to non-Japanese. The constant pain made it clear that I could not wait. I started to do internet research on options on the US mainland, especially in the Chicago area where I have family.
My mom knew of several people that had their hips replaced at St. Alexius Hospital and were very pleased with the results. I decided to concentrate on Northwestern and St. Alexius and researched the surgeons that worked there. Dr. Nourbash stood out in my searches for patient satisfaction over both the surgery results and how the patients felt that he treated them personally.
What was it like communicating with Dr. Nourbash from overseas? What ultimately made you decide that a hip replacement was the right option for you?
Dr. Nourbash and his staff were great to deal with from Guam despite the massive time zone difference. Guam is literally on the other side of the world, and your day is our night and vice versa. Being over the International Date Line and a day ahead of Chicago also was another complication to negotiate. Then there was the Amazon Cloud software that does not recognize Guam as part of the U.S. and refuses to allow downloads of critical documents.
Dr. Nourbash and his staff went out of their way to communicate with me via phone, email, and other software at what must have been odd hours for them and with good humor.
The hip replacement was a no-brainer when I saw the state of my femoral ball after an MRI in Guam. The normally smooth ball looked more like a brain than a sphere. Post-operation, Dr. Nourbash described it as more of a femoral saddle than a ball.
Describe your experience with Dr. Nourbash and the team at BOS. How did they help you before and after your procedure?
My experience with Dr. Nourbash and BOS [was] uniformly positive. I was pleased with the initial consultation, the procedure, and the follow-up meetings. I appreciate Dr. Nourbash's good humor and positive attitude throughout the process and especially just before and after the surgery. Dr. Nourbash was also very kind to my wife just before and after the procedure and personally called her to let her know immediately post-surgery that everything went well. I think that my rapid recovery, limited incision, and ability to limit pain pills to Tylenol three days after the procedure speaks to his surgical skills.
The staff at BOS were great throughout, especially in dealing with the vagaries of communication and internet in the Western Pacific. They were able to work around obstacles and help me to provide the required documents and to answer questions that I had.
Tell us more about your recovery from hip replacement surgery. Did you recover here in the states, or did you go back to Guam? How long was your recovery?
My recovery has been excellent. I did my initial recovery in Chicago for a month, including physical therapy. I am still doing physical therapy in Guam, mostly to recover strength after 3-4 years of very limited mobility. None of my current PT is pain related.
How's it going with your new hip? In what ways has it improved your life?
I love my new hip! I especially appreciate that I no longer have constant pain in my life. I can walk where I want to, after not being able to walk on uneven surfaces for over a year. My posture is back to normal, and I get a lot of comments on how people forgot I was this tall. Finally, people keep telling me that I look younger now that I no longer have the constant severe pain in my face. I am looking forward to continuing [to gain] strength so that I can safely get back to freediving and spearfishing over the reef here in Guam.
If you could say anything to someone considering a hip replacement, what would it be?
Do not delay. You will not regret going through with the procedure and will be surprised how quickly you will recover.
Thank you to Lon for the fantastic insight into your experience! If you're interested in learning more about hip replacement as an option for finding pain relief, schedule an appointment with us. If you'd like to learn more about Dr. Nourbash, visit his profile here.
Community Sponsorships: Workers' Compensation Lawyers Association & Women's Bar Association of Illinois
BOS was also proud to sponsor two events this summer:
The Workers' Compensation Lawyers Association (WCLA) Annual Golf Outing, held at the Hilton Chicago/Oak Brook Hills and Resort & Conference Center in Oak Brook.
The 2022 Women's Bar Association of Illinois (WBAI) Golf Outing, held at Glenview Park Golf Club in Chicago.
In addition to these sponsorships in early August, BOS will be sponsoring the Alpine Races 5k and 10 Mile(opens in a new tab), which will be held by the Alpine Runners at Lake Zurich, IL on August 21st, 2022. 
If you're interested in learning more about the Alpine Runners, visit their page here!(opens in a new tab)
Additional MRI Services Open at Bartlett & Schaumburg Locations
Barrington Orthopedic Specialists is now proud to provide even more diagnostic excellence with the expansion of our MRI services in Barlett and Schaumburg. We offer cutting-edge technology and a comfortable environment, allowing patients the peace of mind they deserve.
To learn more about our MRI services, reach out to the staff at our Bartlett(opens in a new tab) or Schaumburg(opens in a new tab) locations.
To be scheduled with a physician at  Barrington Orthopedic Specialists, contact our office at (847) 285-4200 or schedule online here(opens in a new tab). For urgent needs when our physician's offices are closed, visit our Immediate Orthopedic Care (IOC) in Schaumburg, Illinois.