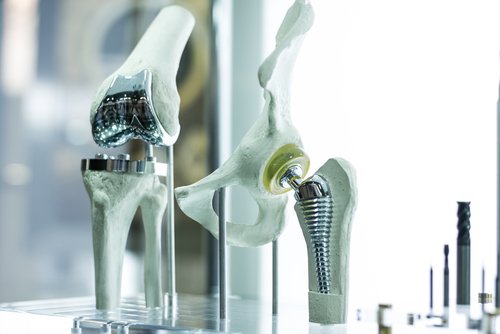 October 27, 2020
In November 2019, Johnson finally received an official diagnosis ― osteoarthritis of the hip. And she finally decided it was time to do something about her pain. Like many do these days, she started her search for a surgeon on the internet.
Hasham Alvi, M.D. has been practicing orthopedic surgery for nine years. He suggested that Johnson was a candidate for an anterior approach hip replacement. This type of surgical hip replacement requires a smaller incision, and the cut is in the front of the hip rather than the side or the back, like in traditional hip replacements. Johnson learned of other possible benefits: less muscle trauma, less pain, earlier and easier recovery, less limping, a shorter hospital stay and decreased chance of hip dislocations.
Like all surgeries, this kind of hip replacement carries some risks, and Dr. Alvi made clear to Johnson to consider the risks of infection, bleeding, blood clots and other common orthopedic surgery risks. She decided the risk was worth the reward.
When asked if she was nervous about having a surgery during the time of a pandemic Johnson says, "Once I decided to have the surgery, I was looking forward to that part of the process being over, COVID-19 or no COVID-19. I was actually worried I wouldn't be able to have the surgery in June, as planned, because of the initial restrictions on elective surgeries during COVID-19. I don't think I was worried to have the surgery during COVID-19 because I was very comfortable with the precautions I had taken up to that point, as well as the protocol in place during my pre-op visit with Dr. Alvi. The pre-surgery call I received from NCH was also reassuring to me that the precautions were in place to keep me safe the day of my surgery."      
Her surgery was performed on June 18. "Two weeks later I was walking comfortably and within a month to six weeks I was back to normal daily functions."
"I felt very safe from the admissions process to the discharge process at NCH. I don't think I ever saw another patient while I was there, and of course everyone wore a mask at all times, including me. The nursing staff was exceptional! I was made comfortable during the entire process."
"If there is one thing I could tell others in the same position, it would be don't wait, because I wish I would have had the surgery sooner," Johnson says. "I didn't really understand what was wrong with my hip and why I had so much discomfort until I met with Dr. Alvi."
It's important to note that common medical response to hip pain is to first try treatments other than surgery, like medicine for pain or inflammation, walking aids or physical therapy. Johnson knew after three years of pain that she was past those stages. "I finally took it upon myself, after three years, to seek out an orthopedic diagnosis, which is what ultimately led me to Dr. Alvi."
"I felt confident and comfortable with Dr. Alvi from the very first appointment. This is extraordinary because I thought about canceling my initial appointment with him at least a dozen times, because I was so uncomfortable with the thought of a hip replacement. I am so thankful I went to the appointment! Dr. Alvi understood my hesitation, and I am grateful for his guidance throughout the process."     
Now nearly five months post-surgery, Johnson says, "I am walking without any pain and with no limp, and my range of motion has greatly improved. I cannot express how happy it makes me that I now walk without pain and without a limp, sometimes I have to convince myself it is real."
© 2020 Northwest Community Healthcare. All rights reserved.