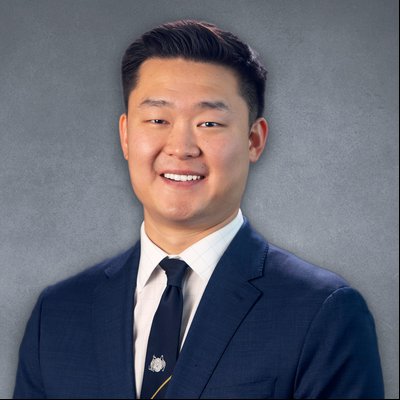 This month, we welcome Dr. Hans Zhang to the team at Barrington Orthopedic Specialists! Dr. Zhang is a fellowship-trained spine surgeon who brings his expertise, drive to innovate, and passion for helping people in his community to the patients at BOS.
We asked Dr. Zhang a few questions about his background, his role as a spine surgeon, and some things he'd like to share about himself.
Hello Dr. Zhang!
Tell us a bit about your background. How did you become a surgeon? What inspired you to specialize in spine surgery?
When I was a medical student, I found myself most drawn to orthopedics for the potential to really improve people's quality of life. I remember patients telling us how they were so glad to be able to get back to the activities they loved and live the lives they wanted, and this was particularly profound in the spine clinics. Spine issues are complex and also commonplace - I saw it as an avenue to make the most impact in people's lives.
What are some of the most common spinal conditions that you treat?
I treat spine conditions from the neck to the sacrum - frequently this means degenerative conditions such as arthritis or herniated discs, which can be seen along with nerve or spinal cord compression (myelopathy). I also take care of patients with scoliosis, or curvature of the spine, which can be seen in both pediatric and adult patients.
What drew you to join the team at Barrington Orthopedic Specialists? What excites you about working at the practice?
The doctors that I admired growing up were always part of my community, taking care of the people that they worked and lived next to. That is part and parcel of this Barrington Orthopedic group's history and mission, one that I'm excited to join. I'm honored to work alongside all of the talented physicians, and I'm looking forward to taking care of our community.
Could you discuss any innovations or advancements in spinal surgery that you're particularly excited about?
We are constantly refining our understanding of the spine and how to better take care of it. This includes at the time of surgery with motion-preserving procedures such as disc arthroplasty or laminoplasty, or less invasive techniques to achieve the same goals. It also includes everything leading up to and after the surgery to help patients recover better and quicker. All of these things combined mean that we are constantly working to improve how we take care of our patients.
What is the most rewarding part of being a spine surgeon?
The most satisfying part of my work is hearing a patient get back to their lives and getting better, either with or without surgery. That's always the goal everyday, and it's truly a privilege to help care for our patients.
What advice do you have for patients who want to maintain the health of their spine?
Just like maintaining your overall health, taking care of your spine is a lifelong journey, and it doesn't exist in a vacuum. Staying active to maintain your strength and endurance will help support your spine, and as one ages, regular check ups to maintain your bone mineral density to prevent osteoporosis will also go a long way in preventing injuries.
Tell us one fun fact about yourself!
I enjoy cycling and running in my spare time, and top of the list right now is to run the Chicago marathon soon!
To learn more about Dr. Zhang, visit his page on our website! If you'd like to schedule a consultation, contact our office at (847) 285-4200 or schedule online here.
Don't wait another day living with back pain. Visit Barrington Orthopedic Specialists and get started on the road to recovery!