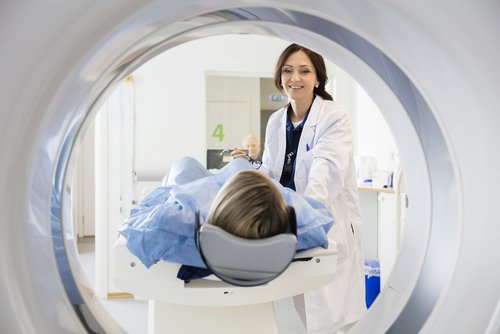 For certain orthopedic conditions, an MRI (Magnetic Resonance Imaging) scan is an essential part of the diagnostic process, as well as preparing for your procedure if surgery is deemed necessary. MRIs are amazing technology -- they allow your specialist to get an inside look at your tissues, all while remaining non-invasive and pain-free. Still, many patients are faced with anxiety.
At Barrington Orthopedic Specialists, we want our patients to feel comfortable and confident during every part of their treatment with us, including during an MRI scan. Here are a few tips for minimizing the common anxiety you may feel before receiving your scan:
MRI Machine
Our MRI machine is open at both ends and it is a short bore machine so part of the body is always out of the scanner which makes patients more comfortable during the exam.  In fact depending on the area of the body being scanned your head may be outside of the scanner. 
Cover Your Eyes
If a patient wants an eye covering during the MRI scan we offer a washcloth as an eye covering.  This can put you in a deeper state of relaxation, and may even be conducive to letting your mind wander or practicing meditative mindfulness.
Claustrophobic 
If you are claustrophobic in tight spaces it may be helpful to speak with your physician about prescribing a sedation medication to take 1 hour prior to the MRI scan.  If medication is prescribed you'll need someone to drive you to the MRI scan and take you home.  
MRI Technologist
An MRI scan is one of the safest, least risky types of testing you can receive. Our Technologists speak to the patient between every scan and give them a chance to ask any questions.  We want to make sure the patient feels comfortable at all times. 
The compassionate, experienced technologists who make up our team at Barrington Orthopedic Specialists want to make sure you're as comfortable and confident as possible when you come in for testing. If you're still concerned about your upcoming MRI, please don't hesitate to reach out to us at (847) 885-6232. 
To be scheduled with a physician at  Barrington Orthopedic Specialists, contact our office at (847) 285-4200 or schedule online here. 
For urgent needs when our physician's offices are closed, visit our Immediate Orthopedic Care (IOC) in Schaumburg, Illinois.