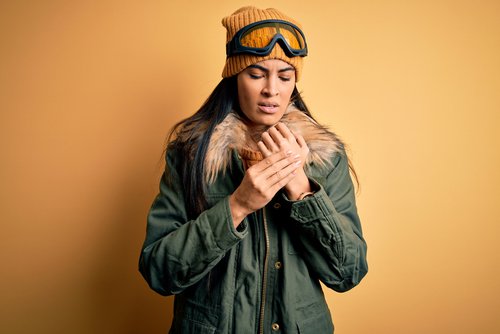 Between crisp orange leaves, beautiful snow, and holiday fun, there are plenty of reasons to love the cold weather seasons. But while winter brings its share of joys, patients who live with arthritis know that there is a certain amount of struggle that accompanies a drop in temperature each year. Based on yearly complaints from patients, arthritis specialists and orthopedic medical professionals have long suspected that weather changes could make symptoms of arthritis challenging. If this is something you wrestle with year after year, what can you do about it?
At Barrington Orthopedic Specialists, we want to provide our patients living with arthritis with the strategies they need to minimize pain and discomfort during the colder months. If you struggle to manage your arthritis in the wintertime, here are four things you can do to alleviate pain and make your season a little brighter:
Consider Using a Warming Agent
For patients whose joints become more painful in the cold, the key to alleviating pain is, of course, staying warm.  A warming agent such as a heating pad could be helpful to use for arthritic joints to decrease stiffness. Be sure not to place the heating pad on direct skin and use a barrier such as a towel to make sure the temperature is appropriate.  Additionally, electric blankets are ideal for providing broad warmth all over your body. It's a great idea to keep both on hand -- just be sure you're practicing safe storage, as these cozy things can become hazardous if put away improperly.
Keep Warm When Outside
Staying warm indoors is one thing -- keeping your joints nice and toasty while taking trips outside is quite another. While everyone should be sure to dress appropriately for winter weather, it's especially important for arthritis patients to be properly bundled up before walking out the door. Layering your clothing is a great first step, and arthritis patients should definitely consider investing in thermal undergarments. Don't forget to cover your extremities -- hats and gloves are a must. If arthritis in your hands is preventing you from wearing gloves, consider mittens as a more finger-friendly alternative. This may seem like common sense advice, but in the moment, leaving the house without proper clothing is easy to do. Try not to tell yourself you're "just" going to the car or the mailbox. Think of every trip outside as a potential time for your arthritis pain to flare up, then bundle up accordingly!
Ask for Help With Chores
While it's important for those living with arthritis to stay active (even in winter), certain wintertime chores may just be too much for your joints, causing unnecessary pain or even damage. Raking leaves and shoveling snow are both high-impact activities that cause strain in your hands, back, hips, knees, and other areas of the body commonly affected by arthritis. Instead of taking on these tasks yourself and putting your body at risk, reach out to friends, family and people in your community to see if they can assist you. There is nothing wrong with asking for help when your health is on the line!
Practice Gentle Exercises
Low-impact exercises are perfect for performing indoors on a cold day.   Yoga has plenty of benefits for those living with arthritis.  Beginners should keep it very simple and gentle, avoiding any poses that require a great deal of impact on your joints.   If arthritis affects your hands and fingers, you can also perform gentle hand stretches at home to improve mobility.  
If arthritis pain continues to bother you in the wintertime and throughout the year, be sure to seek consultation and treatment from an orthopedic specialist.  Whether arthritis affects your hips, knees, hands or wrists, the experts at Barrington Orthopedic Specialists will provide a thorough examination. Visit our full services page to find the right specialists for you.
Our physicians specialize in multiple areas of the body, allowing us to target your joint pain at the source. To schedule an appointment with specialists at Barrington Orthopedic Specialists, contact our office at (847) 285-4200 or schedule online here. 

For urgent needs when our physician's offices are closed, visit our Immediate Orthopedic Care (IOC) in Schaumburg, Illinois.