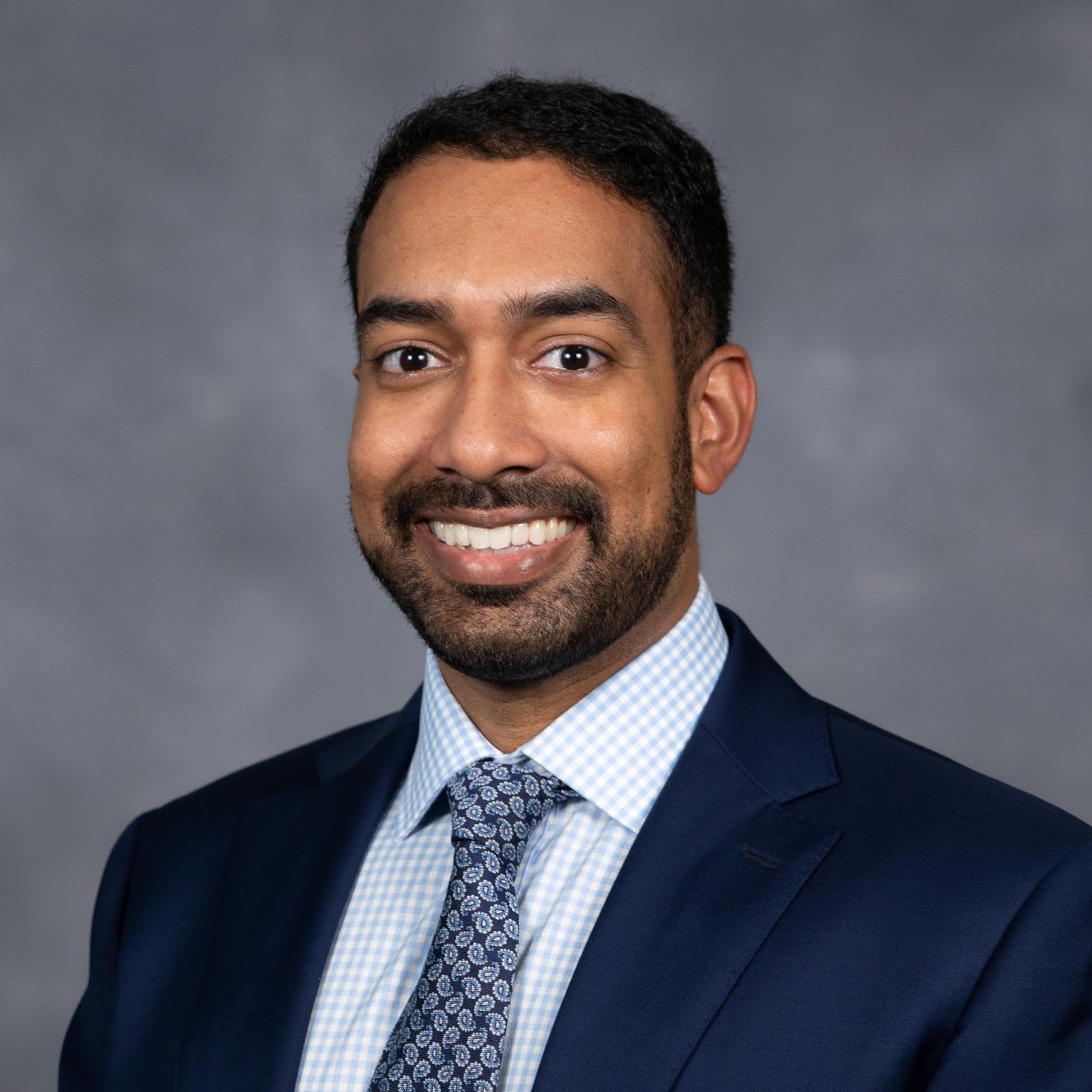 Chronic back pain is more than just a minor inconvenience. Like chronic pain of any kind, back or neck pain can have a significant negative impact on your life. You may be unable to do activities you once enjoyed, find it hard to stay productive at work or home, and even find that your mental health is suffering.
That's why it's so important to find a spine specialist who understands your condition and is committed to helping you find relief. At Barrington Orthopedic Specialists (BOS), our team includes a number of highly-trained and qualified spine specialists who are ready to help you find answers to your back pain and make a full recovery.
Dr. Wajeeh Bakhsh, a board-eligible, fellowship-trained surgeon with extensive experience in treating spine conditions using the most up-to-date, conservative techniques in the field of spine surgery. Whether you've sustained an injury or suffering from acute or chronic back or neck pain, Dr. Bakhsh has the expertise and experience to help you reclaim your quality of life.
We'd like to put a spotlight on Dr. Bakhsh today, and give you a better understanding of why he's the perfect specialist to turn to when living with back or neck pain.
What Does It Mean to Be a Spine Surgeon?
In a general sense, orthopedic surgeons specialize in treating conditions of the musculoskeletal system, including bones, joints, ligaments, muscles, and tendons. But when it comes to treating spinal conditions specifically, you need a medical doctor who has deeper knowledge and experience in this complex area.
Spine specialists, also known as spine surgeons, are doctors who are specially trained to diagnose and treat disorders affecting the structures of the neck and back. These disorders can range from minor aches and pains to serious spinal injuries or conditions that affect the nerves such as herniated discs, degenerative disc disease, and stenosis.
A spine specialist like Dr. Bakhsh is also trained to perform surgery. While not every patient with a spinal condition will need back surgery, for those who do, it's important to find a specialist with experience in this area.
Learn About Dr. Bakhsh
So, how Dr. Bakhsh become a spine surgeon? He attended medical school at Washington University School of Medicine in St Louis, MO, then completed his residency at the Orthopaedic Surgery unit at the University of Rochester Medical Center in Rochester, NY.
He completed his fellowship in complex orthopedic spine surgery at Northwestern University McGaw Medical Center here in Chicago. Fellowship training is a rigorous, specialized program in which doctors hone their skills and knowledge in a particular area of medicine.
Dr. Bakhsh joined Barrington Orthopedic Specialists in August of 2021. He focuses on getting patients feeling better, relieving pain, and restoring function. Every patient has their own story, and Dr. Bakhsh and his team believe in tailoring treatment to each individual to get the best results.
Specializing in Conservative Spinal Surgery
Dr. Bakhsh is also experienced in conservative surgical techniques. These conservative treatments are an exciting advancement in spine care and often offer benefits such as smaller scars, less ongoing pain, and faster recovery times.
Dr. Bakhsh recently spoke about some of these conservative treatment options he uses to restore function in our quarterly newsletter:
'Like [other] fields of orthopedics, there is always innovation. Newer techniques are focused on smaller incisions, less dissection, and basically leaving the body as close to its natural state as possible. The goal is to get patients to heal better and faster, and return to an unencumbered life as soon as possible.
Newer techniques like disc replacement, endoscopy, minimally invasive fusions, microdiscectomies, etc have all been developed or enhanced within the last decade. To stay on top of new technology, I am an active member with multiple societies. These annual meetings are great ways to learn about new tech as it gets developed. I also teach and participate in labs with industry partners to make sure my patients have access to the latest and greatest advances in spine surgery. Experienced surgeons can easily become complacent, practicing old techniques. By actively staying engaged with other spine surgeons across the country, I make sure I keep informed of any new developments.'
On the technology at BOS that helps Dr. Bakhsh perform minimally-invasive spinal procedures, he says:
Thankfully, working with the BOS team has granted me the opportunity to use the most up-to-date instruments, equipment, and implants. In the hospital, I use 3D navigation technology to make sure implants go exactly where I want, without requiring muscle or tissue disruption. I use a microscope in almost all settings to help minimize tissue dissection and help patients heal faster. The newest implants are in my hands, whether in the hospital or outpatient surgery center, as soon as they hit the shelves (and sometimes before!). This includes customized patient-specific implants for even better surgical outcomes.
What Techniques Does Dr. Bakhsh Use?
Dr. Bakhsh uses motion-sparing and muscle-sparing surgical techniques to help his patients achieve a faster, less painful, less costly recovery. But what is motion-sparing surgery? According to Dr. Bakhsh:
According to Dr. Bakhsh:
"Motion-sparing" surgery means that after surgery, the patient will be able to regain their full range of motion. In many situations, spine surgery requires fusion of vertebrae for a number of reasons. Fusion can lead to loss of motion and downstream complications. Whenever there is an opportunity to spare motion or avoid fusion, I think it is in the best interest of the patient. This can be done with disc replacement or other microscopic techniques like foraminotomies to help avoid the need for fusion.

And muscle-sparing surgery?

"Muscle-sparing" surgery describes surgical techniques that avoid disrupting or cutting out muscle. Our back is covered with a network of muscles that are necessary for our back to function. The more this muscle is disrupted, the worse a patient's pain after surgery. Also, healing is impaired if this muscle layer is disrupted, and rates of infections and complications increase. By sparing muscle and using minimally-invasive techniques, smaller incisions, and microscope-guided surgery, patients have better outcomes and bounce back faster after surgery.
Conservative Techniques, Real Results
Dr. Bakhsh is motivated to utilize these conservative techniques by the real relief he's able to offer his patients. He says:

I have seen firsthand the difference in patient outcomes between traditional, maximally-invasive surgery and small, muscle- and motion-sparing minimally-invasive surgery. Sometimes, the big cases need more muscle disruption and it is unavoidable. Those patients need more care and a close, watchful eye. For patients that qualify, using the advanced techniques described above helps them heal much faster, and return to living the life that they want!

Here's one of Dr. Bakhsh's favorite success stories:

One of my favorite success stories is of a patient with severe back and leg pain. Her pain was so limiting that she could not sit, walk, or lay down for any period of time without pain. This prevented her from living life at all, as she could not even sleep. Due to spinal instability and stenosis, her spine was causing her great difficulty. Using modern techniques, including lateral-approach surgery and minimally-invasive instrumentation, the patient successfully underwent a multi-level fusion and went home the next day! She immediately noticed she was able to walk, stand, and sit straight up, and she has been one of my happiest patients from day one.
Learn more about Dr. Bakhsh here. If you're suffering from back pain resulting from an injury or condition related to the spine, Dr. Bakhsh will work with you to develop an individualized treatment plan that works for you. Schedule a visit with Dr. Bakhsh and get started on your road to recovery. You can learn more about Dr. Bakhsh on our website, or schedule your first appointment online.