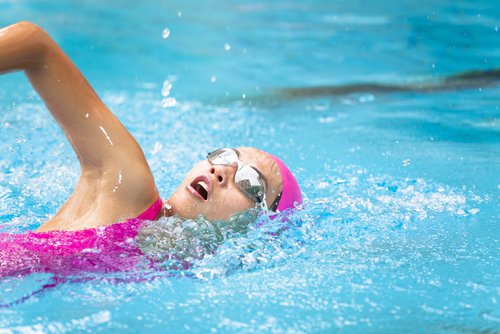 For many of us, sports like swimming and tennis are a hallmark of the summertime. Even though many scheduled team sporting events have been put on hold, a few laps in a private pool or a few turns on the tennis court with a friend are still perfect ways to spend a warm, sunny day. Unfortunately, sustaining an injury to the shoulder while at play -- particularly a rotator cuff injury, one of the most common types of shoulder injuries -- can grind the summer fun to a halt.
At Barrington Orthopedic Specialists, we want our patients to know when they need medical attention so they can get back in the game as quickly as possible. If you're experiencing shoulder pain after being active, here are a few ways you can identify a rotator cuff injury:
Understand Your Risk Factors
Determining your risk factors is a helpful way to begin thinking about whether or not you've sustained a rotator cuff injury. Because they involve frequent and repetitive overhead motions, tennis, swimming and baseball are all sports which pose great risk for rotator cuff injuries. In a non-athletic setting, examine your work habits: if your job requires heavy lifting, you're also at a particularly high risk for injuring your rotator cuff. Finally, if you're older than age 40 or suddenly started becoming active after a sedentary period (which can weaken your shoulders), your risk of shoulder injury will be increased.
Know Your Symptoms
How exactly does your shoulder feel? If your pain is severe, you may be experiencing symptoms of a rotator cuff injury, like rotator cuff tendinitis. If you find yourself avoiding sports you've previously enjoyed because you anticipate pain in your shoulder, it's possible that you've been living with a rotator cuff injury for some time. Keep an eye out for these additional symptoms as well:
Reaching behind your back becomes difficult
Moving your shoulder in certain positions becomes painful
Physical activity worsens your shoulder pain
The range to which you can move your shoulder is compromised 
You find your shoulder to be weaker than before
Due to the fact that rotator cuff pain can worsen at night your injury may also be causing poor sleeping habits. 
If these symptoms sound familiar, don't wait for your injury to worsen before seeking treatment from an orthopedic shoulder specialist. To find the right provider at Barrington Orthopedic Specialists, please visit our website at https://www.barringtonortho.com/services/shoulder/.  For urgent needs when our physician's office is closed, we also offer an immediate orthopedic care clinic.
Evaluate Your Sports Habits
Could the way you play be increasing your risk for shoulder injuries? Whether you've sustained a single traumatic injury or you've been causing wear and tear over a long period of time, it's important to think about the way you use your shoulder if you suspect a rotator cuff injury. Ask yourself the following questions:
Does my activity of choice (swimming, tennis, pitching in baseball) involve a great deal of overhead arm movement?
Have I ever fallen on top of my arm while it was outstretched (for example, when sliding to catch a pitch)?
Have I recently taken a direct hit to my shoulder from a bat, ball or someone else's body?
Could my age or underlying conditions be resulting in degenerative wear and tear on my shoulder tendons?
If the answer to any of these questions is "yes," it's likely that you have sustained a rotator cuff injury, and it's time to speak with an orthopedic shoulder specialist soon.
Talk to Your Orthopedic Specialist
Ultimately, only an orthopedic specialist can truly determine whether or not you've sustained an injury to your rotator cuff. If every factor discussed in this blog sounds familiar, it's important to schedule an appointment soon so your condition does not worsen. While the team at Barrington Orthopedic Specialists seeks conservative treatment as much as possible, severe rotator cuff injuries may require surgery to help you make a full recovery. 
If shoulder pain is putting a damper on your summer fun, schedule an appointment with Dr. Thomas Obermeyer, Dr. Sean Jereb, Dr. Jason Rotstein, Dr. Matthew Bernstein, Dr. Mark Yaffe, Dr. Keith Schroeder, Dr. Ciro Cirrincione or Dr. Mark Levin. Our team of orthopedic shoulder and sports medicine specialists can provide you with an accurate diagnosis and the treatment you need to get back in the game. To schedule an appointment call (847) 285-4200 or complete an online appointment request form.
For urgent needs when our physician's office is closed, visit our Immediate Orthopedic Care (IOC) clinic in Schaumburg, Illinois.