Broken Collarbone Treatment
Breaking your clavicle -- also known as your collarbone -- can be an extremely painful experience, and can seriously limit your ability to move your shoulder whatsoever. While some patients can recover nonsurgically from a collarbone fracture using a sling and extensive physical therapy, others will require surgery to offer a full, effective recovery.
At Barrington Orthopedic Specialists, our experienced, high-quality shoulder specialists can help you find relief and ultimately decide the right course of action following a collarbone fracture. We'll work alongside you to develop a personalized treatment plan that truly works for you.
If you're ready to find relief from your broken collarbone, schedule your first consultation with the team at Barrington Orthopedic Specialists today. If you're in an emergency situation, visit the Immediate Care Clinic at our Schaumburg, IL location.
Shoulder Surgery from Orthopedic Surgeon 
The physicians at Barrington Orthopedic Specialists use cutting-edge technology to assess, diagnose and work with patients to develop innovative treatment plans for a variety of shoulder conditions and injuries. Our team of physicians is committed to finding you the best treatment for shoulder pain that suits your individual needs. We serve patients out of our 4 convenient locations: Schaumburg, Elk Grove Village, Bartlett, and Buffalo Grove.
Our team is here for you!
Shoulder Specialists
Specialties: Shoulder
Advanced Shoulder Care at Barrington Orthopedic
The physicians at Barrington Orthopedic Specialists provide comprehensive shoulder pain treatment for patients in need. We'll work closely with you each step of the way from diagnosis to treatment, involving you in key decisions in a collaborative effort.
Highly Trained Shoulder Surgeons
Our physicians provide both surgical and conservative treatments for acute and chronic shoulder conditions, including shoulder joint pain relief.  
Shoulder Surgery as Your Last Option
Our goal is to emphasize non-surgical treatment options and when needed, minimally invasive shoulder surgery. When surgical intervention is required, our highly-trained surgeons offer the most advanced and innovative surgical treatment options.
Convenient On-Site Rehabilitation Services
The surgeons at Barrington Orthopedic Specialists are dedicated to the full continuum of care for each patient, providing convenient on-site Physical Therapy services to bring your care conveniently under one roof. In-house rehabilitation services also provides a close communication channel between the designated surgeon and the dedicated team of physical therapists.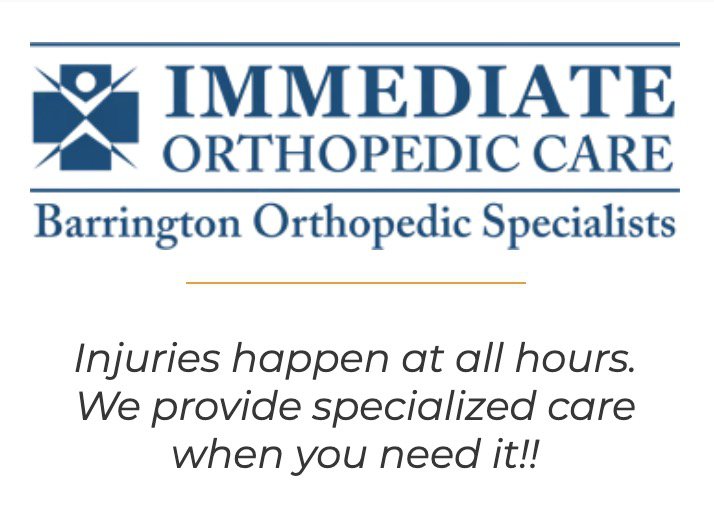 WHY CHOOSE BARRINGTON ORTHOPEDIC SPECIALISTS – IMMEDIATE ORTHOPEDIC CARE CLINIC?
Expert orthopedic care by medical professionals with specialized training.
X-Rays available on-site.
Shorter wait time than at traditional urgent care facilities or emergency rooms.
Faster recovery and return to your active lifestyle.